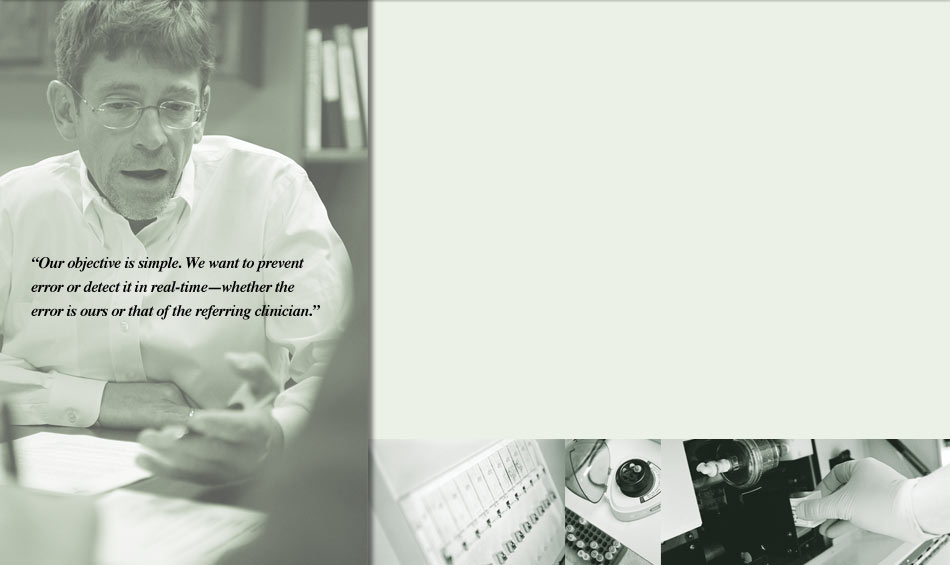 A MORE PROGRESSIVE APPROACH TO DIAGNOSTIC ACCURACY.
Executive Summary
Historically, pathologists combine low error rate with high claims severity.
Pathology Associates of Boone QA combines industrial practices, comprehensive documentation protocols and real-time error detection and prevention.
Pathology reporting standards designed to improve diagnostic accuracy and support improved clinical outcomes.
Close working relationships with clinicians.
With a comparatively low rate of diagnostic error compared to other specialists, pathologists.and referring clinicians.still have cause for concern. Error rate may be low, but claims severity is high. Accordingly, the conscientious pathologist seeks to eliminate diagnostic error using various types of secondary review.
In 2005, The Center for Disease Control and Prevention issued "Seven Healthcare Safety Challenges," including the elimination of "laboratory errors leading to adverse patient outcomes."
Our objective is simple: we want to prevent error or detect it in real-time.whether the error is ours or that of the referring clinician. Our approach is based on an industrial model, which seeks to improve efficiency while improving quality and reducing cost. This requires immediate root cause analysis and a proactive approach to error reduction intervention, with the participation of everyone on the staff.
To review and download a PDF of our pathology reporting procedures,
click here
.